Grand Hotel
Season 1
| | |
| --- | --- |
| #05 | TBA |
| #06 | TBA |
| #07 | TBA |
| #08 | TBA |
| #09 | TBA |
This page is dedicated to the first season of ABC's Grand Hotel.
The series was picked up by ABC on May 11, 2018[2], originally scheduled to air as a midseason replacement in January 2019[3][4], the show was moved to the summer and is set to premiere on June 17, 2019.[1]
The season will consist of a total of thirteen episodes.[5]
Season Summary
Edit
Eva Longoria executive produces this bold, provocative drama set at the last family-owned hotel in multicultural Miami Beach. Charismatic Santiago Mendoza owns the hotel, while his glamorous second wife, Gigi, and their adult children enjoy the spoils of success. The hotel's loyal staff round out a contemporary, fresh take on an upstairs/downstairs story. Wealthy and beautiful guests bask in luxury, but scandals, escalating debt and explosive secrets hide beneath the picture-perfect exterior.[2]
DirectorsEdit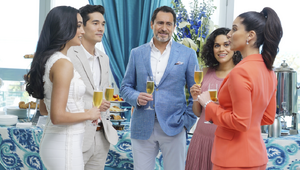 See main article: "Pilot"
Original air date: June 17, 2019
Written by: Brian Tanen
Directed by: Ken Olin
Plot Synopsis: TBA
SmokeshowEdit
Gallery of videos used to promote the season.
Gallery of photographic stills used to promote the season.
References
Edit
↑ 1.0 1.1 ABC Announces Premiere Dates for New Series "The Fix," "Grand Hotel," "Whiskey Cavalier" and Returning Shows "American Idol," "Match Game" and "For the People" Plus: "A Million Little Things" moves to Thursdays at 9:00/8:00c starting January 17 by The Futon Critic (December 13, 2018)
↑ 2.0 2.1 "Grand Hotel" Coming Soon to ABC, by Steve Dove, ABC.go.com (May 11, 2018)
↑ ABC Fall 2018-19 Schedule: Alec Baldwin Talk Show Part Of All-Unscripted Sunday, Friday Comedy Block Returns, by Nellie Andreeva, Deadline (May 15, 2018)
↑ At the promo shoot for #grandhotelabc with fellow cast mates #chriswarrenjr and the always fabulous #wendyraquelrobinson. Grand Hotel drops on ABC January 2019 #kappaartistsnetwork #kappaalphapsi #biglittlelies #graceandfrankie #shooter #nupes, by John Marshall Jones, Instagram (October 15, 2018)
↑ Renewed or Cancelled - The Complete SpoilerTV 2018/2019 - TV Scorecard, by Spoiler TV, Spoilertv.com (October 31, 2018 (retrieved))
↑ 'Whiskey Cavalier' Casts Dylan Walsh; Ken Kirby Books 'Grand Hotel', by Denise Petski, Deadline (December 18, 2018)
↑ 'Grand Hotel': Jencarlos Canela Books Recurring Role On ABC Drama, by Denise Petski, Deadline (September 14, 2018)
↑ Eva Longoria to guest-star on ABC's Grand Hotel, by Samantha Highfill, Entertainment Weekly (September 10, 2018)
↑ Guillermo Hernandez-Yeo - Resume, by Guillermo Hernandez-Yeo, http://guillermotheactor.com (August 28, 2018)
↑ 11.0 11.1 11.2 'Grand Hotel': John Marshall Jones, Richard Burgi & Adrian Pasdar Join ABC Drama Series, by Denise Petski, Deadline (November 15, 2018)
↑ Per @lincolnyounes1 's Instagram Story, @MattShively1 will appear on @GrandHotelABC, by Lincoln Younes, Instagram (September 19, 2018)
↑ I mean, what's an appropriate facial expression for a shameless shirtless selfie? Does such an expression exists?? 🤔😂 #GrandHotel #abc, by Brandon Quinn, Instagram (October 2, 2018)
↑ 14.0 14.1 'Grand Hotel': Katey Sagal & Freddie Stroma To Recur On ABC Drama Series, by Denise Petski, Deadline (December 5, 2018)
↑ 15.0 15.1 15.2 15.3 15.4 15.5 We accepted the challenge from @VidaWriters & @ODAATwriters to end family separation at the border. Donate here to directly support legal services for separated families and funding for their release. https://tinyurl.com/onevida @RAICESTEXAS #keepfamiliestogether, by Grand Hotel Writers, Twitter (June 20, 2018)
↑ Day 2 ✌️ #GrandHotel, by Lincoln Younes, Instagram (March 16, 2018)
↑ That's a wrap! #GrandHotel, by Lincoln Younes, Twitter (March 28, 2018)
↑ Production Dates - Various Shows, by SpoilerTV, Spoilertv.com (August 28, 2019)#ThatsAWrap on Season 1 of #GrandHotel!!! Catch us this summer on ABC!, by Curtis Kheel, Instagram (January 28, 2019)